Napoleon GL30E Vented Gas Log Set, 30-Inch
Regular Price
$1,429.00
Special Price
$1,299.00
Product Overview
Napoleon GL30E Vented Gas Log Set, 30-Inch offers the perfect solution to replace your old wood burning fireplace. This 30" gas log set features a unique and efficient infrared burner that radiates heat into the room for additional warmth and increased energy efficiency. The 100% electronic ignition requires no electricity or standing pilot for convenience and simplicity, and features 50% flame/heat adjustment for maximum comfort. This kit comes packaged as one complete system for easy installation, and includes the solid cast iron andirons & grate, large charcoal embers, and 5 lbs. of lava rock necessary for installation. Available in both natural gas and propane, the Napoleon GL30E is as easy to install as it is to use. Stop putting up with the hassle of an inefficient wood burning fireplace and instead, enjoy a beautiful roaring fire with just the flip of a switch - it's also set up and ready to be used with a remote control for added convenience.
The GL30E not only saves you hassle, but saves you money! It's much less expensive than purchasing and installing a gas insert fireplace - plus it's a much more realistic "wood fire" experience with a gas log set. The GL30E installs into an existing opening with a chimney/vent, with no major renovations needed - and results in a tall & realistic flame presentation. What's more, the ceramic log set will continue to heat even after being turned off until the logs have cooled - resulting in great energy savings.
Features
Infrared Heat - Unique infrared base radiates heat back into the room for additional heat & increased efficiency
Electronic Ignition - 100% electronic ignition system needs no electricity & doesn't use a standing pilot
Two-Stage Heating - 50% flame/heat adjustment for maximum comfort & efficiency
NG & LP - Available to be used with either natural gas or propane
Remote Ready - Controls are hidden from view with easy access, ready for remote control setup
Complete Log Set - Includes cast iron andirons & grate, charcoal embers, & 5 lbs. of lava rock
More Information

| | |
| --- | --- |
| Manufacturer | Napoleon |
| Venting Type | Vented |
| Manufacturer Part Number | GL30E-Config |
| Min. Fireplace Depth (Inches) | 22 |
| Min. Fireplace Height (Inches) | 14 |
| Min. Fireplace Width (Inches) | 34 |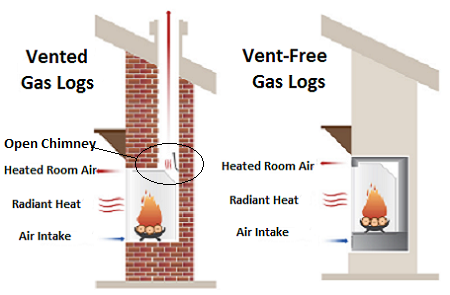 Vented vs. Vent-Free
Vent type refers to how the fuel emissions are managed, your selection should be based on they type of firebox in your home and ensuring it meets your local codes.
Vented
Most popular option for gas logs
Gas logs must be used in a firebox with a working chimney flue
Can be less efficient as a heat source because of the open chimney
Vent-Free
Can be used in any approved firebox - with or without a flue
Very efficient energy source as no heat is lost through the chimney
Requires an oxygen depletion sensor to safely monitor gas emissions
Some states do not allow vent-free units - check your local codes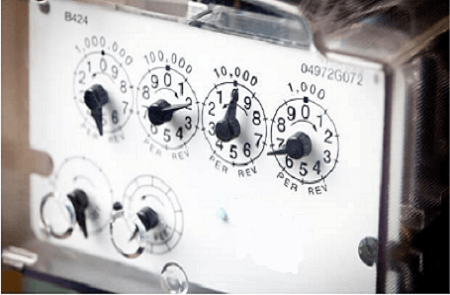 Gas Supply
For gas log sets, burners will be supplied from the same gas that supplies the rest of your home.
Natural Gas
Most common gas type for gas logs
Almost all homes in urban/suburban developments will have access to natural gas
Natural gas does not sink, which helps avoid the build-up of gas on the fireplace floor
Propane
More common for rural homes
Often runs off of a large stand alone propane tank
Propane is heavier than air and will settle on the fireplace floor - a reason why most manufacturers require the use of a safety pilot kit to help burn excess gas before it settles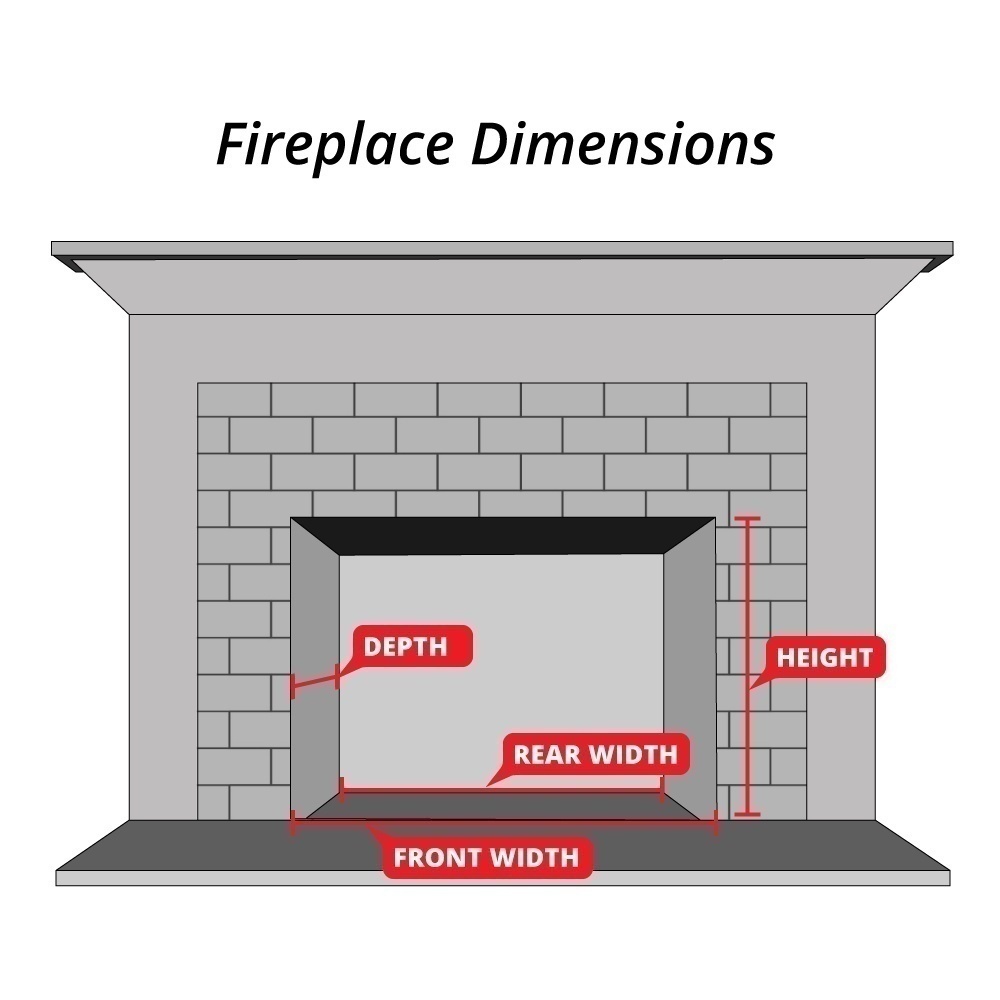 Choosing Gas Log Size
Know your fireplace dimensions - Measure front width, back width, the depth and the height of your firebox.
Before You Begin:
Take clearances into account to avoid any overheating of combustibles
Be sure to leave room on the sides for a valve/remote system if using them
Gas log sets can range anywhere from 12 to 96 inches, but most common sizes range from 18 to 30 inches
Looking For a Custom Size?
Many brands offer the ability to create custom logs/burners to fit any firebox
Usually standard sized log sets will fit nearly any firebox but some fireboxes are unique
Ignition and Controls
Ignition/controls refer to how the gas log set is started.
Match Light
Most basic and inexpensive ignition method
Manually open your gas valve and light the burner with a lighter or match
Flame height can be easily adjusted
Very reliable - all mechanical parts (nothing should ever break)
Manual Safety Pilot
A pilot system allows convenient ignition by having an open flame source that ignites the main burner when the gas valve is opened
Features a standing pilot (the pilot light will stay lit at all times)
Often times can be paired with a remote, wall switch, or thermostat
Electronic Ignition
Similar to a manual safety pilot but allows the pilot to be lit automatically
The pilot can be standing or intermittent (shut-off between uses)
More energy efficient by shutting off the pilot in between uses
Can be paired with a remote control, wall switch, or thermostat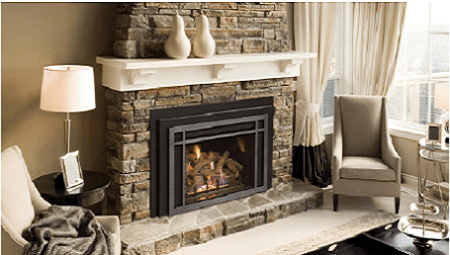 Outdoor vs. Indoor
Because of their ceramic construction, many log sets can be used indoors or outdoors - with the proper considerations.
Indoor Log Sets
Can use black steel or stainless steel burners with confidence
All safety pilot options are able to be used
Outdoor Log Sets
Be sure to use a stainless steel burner to withstand the elements
Safety pilot kits may not be an option if you can't protect them from weather
Match light is the most reliable option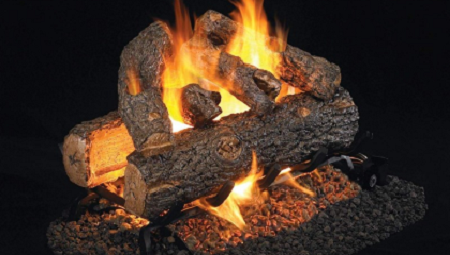 Log Set Profiles
There are two types of log styles - one-sided and two-sided
One Sided Gas Log Sets
For installation in a traditional fireplace with only one viewing angle
Most common log set option - the logs are designed with this profile in mind
Two Sided Gas Log Sets
Also referred to as "see through", "dual face", or even "peninsula" style log sets
These logs are designed to have multiple viewing angles - either two sided or three sided in some cases
Very contemporary option to join two rooms together with one fire feature
Minimum Opening Dimensions - 34" x 14" x 22" (Width x Depth x Height)
Log Set Dimensions - 30" x 13" x 16" (Width x Depth x Height)
BTU Output - Up to 65,000
Warranty - President's Limited Lifetime Warranty
Napoleon's story began in Ontario, Canada in 1976 when Wolfgang Schroeter founded Wolf Steel, which later became Napoleon Grills and Napoleon Fireplaces. The company has since become a leading player in both markets in Canada, the United States, and Europe, offering both high-end and entry-level products with quality manufacturing and ample features at various price points to suit all customers. Napoleon products come with the President's Limited Lifetime Warranty, instilling confidence in their quality, and the company has been recognized as one of Canada's "Top 50 Best Managed Companies" for their excellent customer service and more.